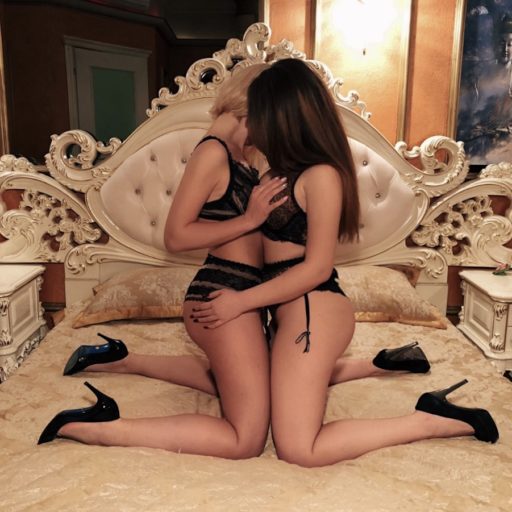 You must admit that female beauty is an object of sighing and unquenchable passion. Their touch is pure tenderness and an intoxicating euphoria. Imagine when two seductive girls caress each other uncontrollably in front of your eyes? It becomes hot only from the thought. Soho Spa invites you to see this and visit the most exquisite erotic massage session with a lesbian show. Such an evening will remain in your thoughts forever!
How is the erotic session going?
Before the start of the program, you choose two beauties who will tirelessly please each other before your eyes. After that, the girls will take you to a separate massage room, in which the aroma of passion and lust hovers. The lights are dim, slow music plays, you sit comfortably on the spacious bed and the most unforgettable show of your life begins.
The girls playfully smile at each other and merge sweetly in a long kiss, from which the temperature in the room noticeably rises. Their caresses become hotter and more persistent, your body strives to quickly join the two beauties, but they play with you, charming with their not feigned passion.
A little time will pass and they will still turn their attention to the excited viewer. The moment you have been waiting for is coming – the lesbian show flows into a sensual erotic four-hand massage.
Features of the program
As already became clear from the description above, erotic massage with a lesbian show is an incredible adventure filled with passion and excitement. The event is aimed exclusively at men who are not afraid of their fantasies and always strive for something new and unusual. The advantages of this event can be safely attributed to:
Getting amazing emotions;
Removal of moral and physical stress;
An embodiment of your fantasies;
An awesome excitement;
Powerful relaxation at the end of the session.
It's no secret that it is the girls who are the initiators of long and gentle foreplay, passionate kisses and light touches that make the whole body tremble. That is why the act of love between two beauties is a sex-filled act, during which two flawless bodies merge into one, giving each other unthinkable pleasure. To get into the mood of this event, it is enough to order an erotic massage with a lesbian show in Soho Spa and you will become a direct participant in the most intriguing spectacle.